Info For Vendors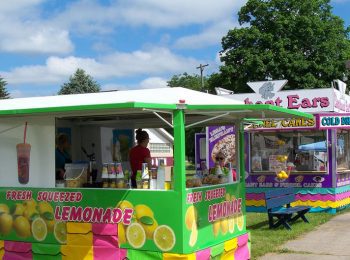 Info For Vendors
Crafters, Food Vendors, Farm Equipment, Souvenirs
The hundreds of families and friends who attend the Ionia Farm Power Show enjoy browsing through the vendor booths. They seek out the unique hand-make creations, one-of-a-kind flea market finds, and of course, they'll stop for lunch and a snack, too.
The Big Raffle

The Big Raffle
The Prize for 2018
Congrats to our Raffle Winners for 2018: This year's first prize tractor — a 1967 Ford 2000 — was won by Carol Price. Kris Stewart won the $300 second prize, Dale Hammond won $200, and third prize went to Garet Gillsin. The winner of the toy tractor was Riley Frisbie. Each year, the Ionia Farm Power Club sells raffle tickets for great prizes. Thanks to everyone who bought tickets! Watch this space for next year's prizes.
Entertainment, Too!
Entertainment
You can be a spectator or a participant.
Yes there's free music, and dozens of other activities that everyone can watch throughout the weekend. But there are many that kids, adults, and families can join in, too! Pie-eating contests and auctions, tractor baseball, pedal tractor pulls, and lots more.
A Special Tribute
February 14, 2017
0
A special thank-you for donations and going above and beyond in 2017: • Joe  & Jan Kammers • Cliff Rowley • Tom Snyder • Larry Cobb • George Gregg • Gale & Glenda Wing • Tom Green
---
The Ionia Farm Power Club is a non-profit organization that is fully operated by volunteer members and generous contributors. There have been a few members and supporters who have now passed on. They were involved "above and beyond" and made this club, and this show, what it is today. We acknowledge those members here with our heartfelt thanks.
---
IN MEMORY OF ... Ken Schrauben • Dick Baker • Roy Munger • Bill Kneale • Dick Comer • Sandra Badder • Ellie Bishop • Don Badder
Something for Everyone
Download the 2018 Farm Power Show Brochure here! (PDF format - 1 Mbyte)
We charge a General Admission of $2.00 per person at the gate. (Kids get in FREE with an adult.)
Parking is FREE, too.
Exhibitors get FREE admission (does not include Camping fees)
Camping is $25 per night (with water and electricity) - CLICK HERE for camper registration. Register before May 31 and pay only $20 per night!
Rustic Camping is $10 per night - CLICK HERE for camper registration.
If you'd like a hotel room - CLICK HERE for lodging information.
LIVE MUSIC and FAMILY FUN, plus FREE PONY RIDES ALL WEEKEND! And don't miss the big PIE AUCTION!
For info on other area attractions and events, please contact the Ionia Area Chamber of Commerce.